{31EFA996-A132-454F-82A5-9FD87CE86BE6}
Travertine Floor Tile
Add the warmth and texture of natural stone to any room of your home by installing travertine flooring which is available in a variety of gorgeous colors and tones.
Design Ideas
FAQs
Floor
Add the warmth and texture of natural stone to any room of your home by installing travertine flooring which is available in a variety of gorgeous colors and tones.
Travertine Floors – A Beautiful Option for Your Home
One of the oldest building materials available to install in your home, travertine is a durable stone that can introduce lots of natural beauty to your decor. Its visibly porous, pocked surface gives it a truly distinctive texture. Available in a multitude of colors, travertine tile can be finished so it appears polished, honed, brushed or tumbled. The wide variety of travertine looks available at The Tile Shop means that there's a tile that can create the right vibe in any room you have in mind, from bathrooms to kitchens.
Color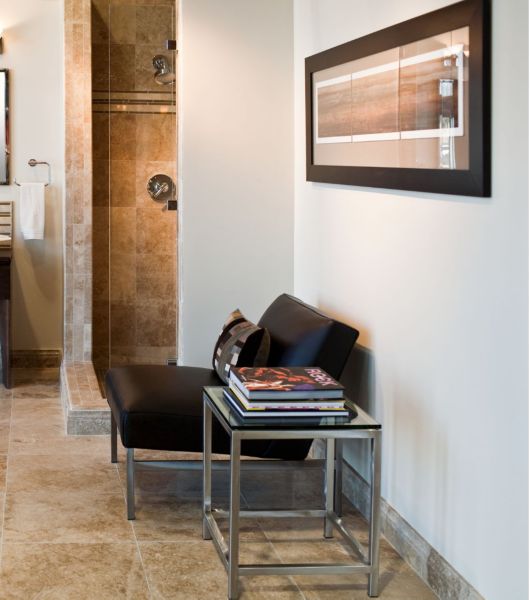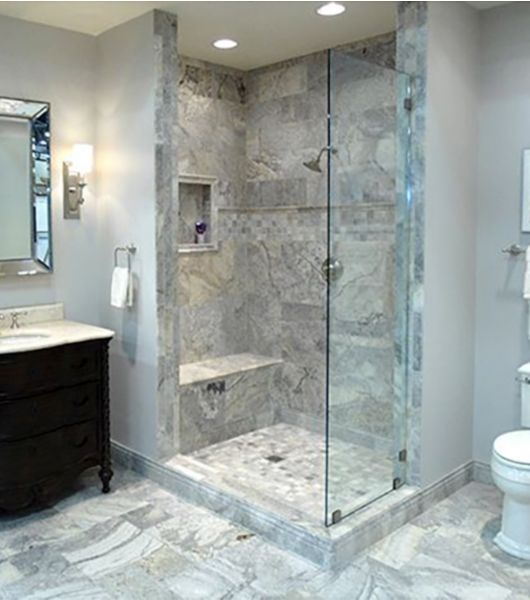 Travertine is known for its trademark veining and is typically found in warm, neutral tones, however, tile is available in a range of colors like cream, beige, brown, tan, grey, black, blue, orange, yellow, gold and ivory. Subtle variations in color and pattern between individual tiles will keep your floors from looking too uniform.
Finish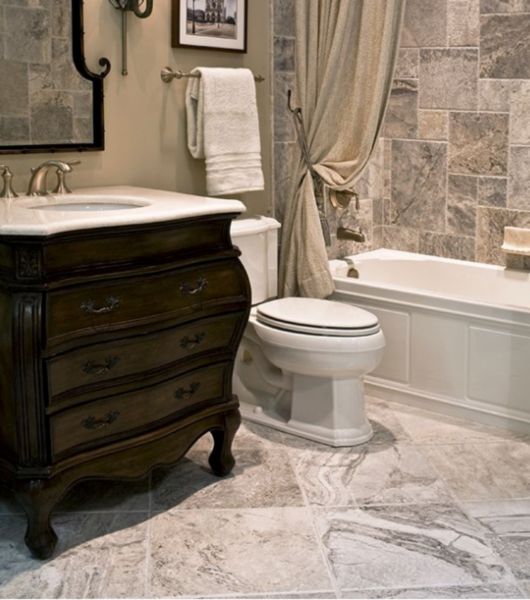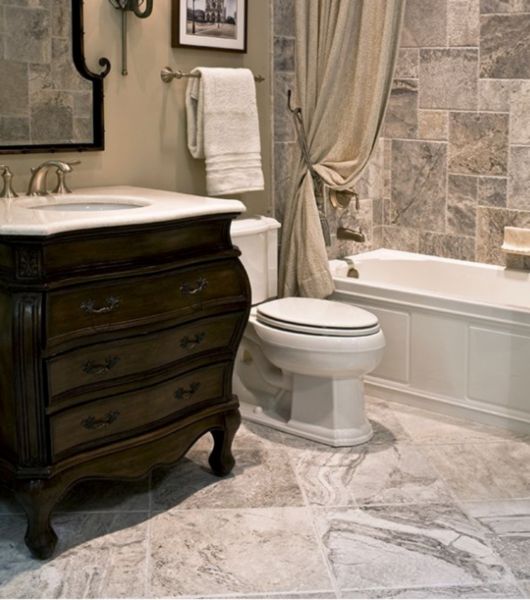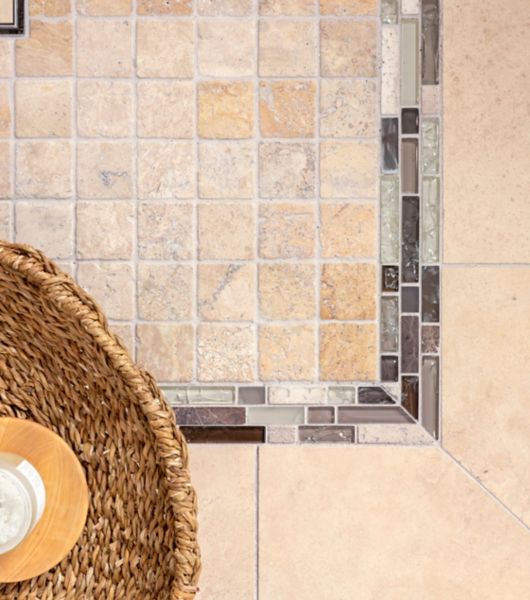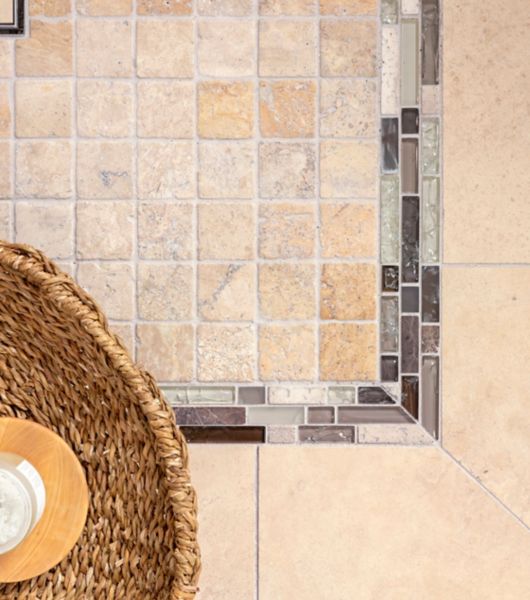 Travertine is a stone that's available in a variety of finishes including polished, honed, tumbled and brushed. Glossy and light reflective, polished travertine has been smoothed and sealed, making it stain resistant and very slippery when wet. Honed is a smooth, sanded finish that is matte in appearance. For a Tuscan, Old World vibe, look to tumbled tile, which has rounded corners and edges that provide great traction. Brushed travertine tile is treated with wire brushes to create a surface that's matte and textured.
Ask the Tile Experts
Travertine is a sedimentary stone made from limestone that is found in natural mineral springs. During the forming process, several minerals mix together to create the swirls and patterns that give travertine its distinctive character. Travertine tile is popular for its beautiful look and long-lasting durability.

It's important to sweep on a weekly basis so small particles can't scratch the surface of the tile. Make sure you use a neutral cleaner that is pH balanced to protect your sealer and clean your floors. You should clean with a damp mop and never use an abrasive chemical or acidic cleaner. For travertine, we recommend Grout & Tile Neutral Cleaner and Natural Stone Deep Cleaner from Superior Adhesives & Chemicals.

Yes. Just like any other natural stone, you want to protect your shower surfaces against minerals found in water itself by sealing your tile. We recommend using one of our sealers from by Superior Adhesives & Chemicals that will last from 10 to 15 years. Enhance & Seal gives your stone a wet look and is available in pint and quart sizes. Premium Gold Stone Sealer provides a natural finish and is available in pint, quart and gallon sizes.

Any surface can be slippery when wet. It's most dangerous when your feet are wet and the surface you step on is also wet. Polished and honed stones that are flat and smooth will be more slippery than our finishes that are brushed, filled and tumbled. Solve this issue by designing your floors so that you have some texture when you are coming in from outdoors and the shower/tub area. Introduce a lovely listello or a mosaic to break up your flooring design and add some grout line in those areas.

Travertine tile flooring is usually found in bathrooms, but it's also found in kitchens and other rooms. Basically, it can be installed anywhere you would install stone or ceramics: shower floors, bathtub surrounds, foyers and more.

Yes, just like any natural stone, travertine is naturally porous. To ensure that your travertine floors stay protected, you should seal them during installation and periodically afterwards. The Tile Shop recommends using Enhance & Seal or Premium Gold Stone Sealer from Superior Adhesives & Chemicals that will last from 10 to 15 years.

Travertine is not as soft as marble but not as hard as granite. It can scratch if not protected, so be careful when moving heavy objects on your travertine floors. Be conscious of the finish you choose and what kind of area you're installing it in. The nice thing about honed and polished floors is that they can be refinished down the road if needed. Travertine will only crack if it is not installed properly. Cracks generally only happen when there is movement in the floor itself—that's why installation is so important. Travertine is naturally holey, so make sure to fill the voids on the back of the tile with thin-set (commonly called "back buttering") before you place the tile down in your mortar bed.

Porcelain tile can imitate the look of travertine without the level of upkeep and maintenance that natural stone requires.

In general, travertine tile is 3/8" to 1/2" thick. Some can be thicker to give the travertine tile more strength. Make sure you ask a store associate at The Tile Shop to confirm that your thickness is appropriate for your specific installation.